About On The Fly Outfitters
A portal for people from all walks to have an intimate experience in nature. We are an outdoor retailer specializing in fly fishing, falconry, camping, hiking and adventure travel.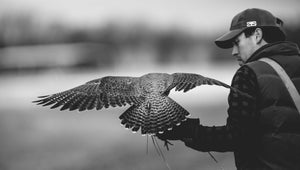 Limited Edition
OTF x SLP Collaboration
Introducing the Sight Line Provisions Birds of Prey Collection.
Shop the Collection
Exclusive
Talons + Tails
On The Fly Outfitters offers a unique experience this Fall - a morning falconry hunt with an afternoon fly fishing charter stalking redfish.
EXPERIENCE COMING SOON!
Education
Fly Fishing 101
New to fly fishing? Register for our upcoming Fly Fishing 101 classes. Space is limited. Sign up today to secure your spot.
Register Today
Limited Release
OTF x Whiskey Leather Works Collaboration
Get your own limited edition Whiskey Leather Works flasks embossed with our OTF logo. Each flask in this small batch is numbered and comes with a funnel for easy filling. Handcrafted in Montana by our friends at Whiskey Leather Works.
Learn more